Open Stakeholders Consultation
Presentations and Discussions with the STF stakeholders
ETSI has started a new project (the Specialist Task Force STF 561) within its Human Factors Technical Committee, whose main goal is to provide a Technical Report with recommendations giving an overview of existing and needed standardization relating to the requirements of inhabitants of or visitors to smart cities or communities.

The perception is that smart city standards efforts do not sufficiently factor in citizen needs including usability, accessibility, or data security. This is clearly counterproductive when trying to create efficient standards in the smart city context.

The Technical Report will be produced with an active input from all interested stakeholders including standards organizations, policy-makers and the cities themselves. This consultation is done via two on-line "Awareness" meetings and an Open Conference.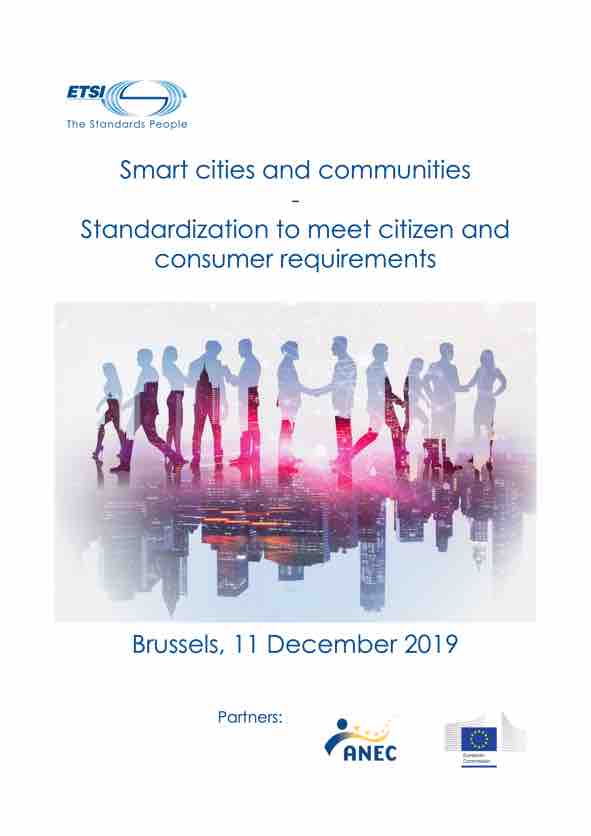 Public discussion of the draft Technical Report
ETSI has organised an Open Meeting on Smart Cities and Communities held in Brussels on 11 December 2019.

We have discussed how smart city standardization can better meet citizen and consumer requirements. The discussion was centred around the draft Technical Report (TR) that ETSI's Technical Committee Human Factors is preparing.

The draft TR explores issues such as usability, accessibility, and data security, and makes recommendations towards standards bodies and cities as to how these issues can be better taken into account.

The outcome of the meeting (summarised in the
meeting summary
), together with the on-line review, will be taken into account as we prepare the final version of the TR.
The Draft Technical Report is now in final editing stage.
On-line Awareness Meetings
Open Meeting #2 and Available Material
This Open Meeting #2 has been held on September 16th, 2019. It was the second of two web-based open "Awareness" meetings organised by the team preparing the Technical Report. It was dedicated to an update for the stakeholders on the progress of the work and to discuss the conclusions of the consultation and the refined content of the
Technical Report.


The following presentation is available for download:

Open Meeting #1 and Available Material
This Open Meeting #1 has been held on May 16th, 2019. The first of two web-based open meetings to be organised by the team preparing the Technical Report, it was dedicated to creating and improving stakeholder awareness regarding the progress of the work and to collect early feedback from the audience that can help the ETSI team in better focusing its work.

The following presentations are available for download: